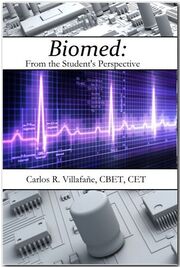 About
Author: Carlos R. Villafane, CBET, CET (c)2009 Biomed: From the Student's Perspective
This book is the English Translation of "Biomédica: Desde la Perspectiva del Estudiante".
The purpose of this book is to give the reader a general idea of what the Biomedical or "Clinical Engineering" Field is about. It's directed to Electronics/Biomedical students in very easy to understand terms, with more than a hundred illustrations.
It helps the students to familiarize with the repair and maintenance of Medical Equipment, and explains how important the Biomed Department is in every health care facility. It is an excelent tool for Biomed/Electronics teachers too.
ISBN # 978-1-61539-663-4, http://www.biomedtechnicians.com
http://www.biomedtechnicians.com
Carlos Villafane currently resides in Tampa, FL. He has been involved in the Electronics field since 1989 and has worked for companies such as Panasonic, GE Medical and Baycare Health System, among others. He has studies in Electronics and Biomedical Engineering technologies, and a BS in Technical Management. He's the President and webmaster for the Bay Area Association of Medical Instrumentation (www.baami.org) in Tampa Bay, FL.
His book can be purchased online from his website: http://www.biomedtechnicians.com . It can also be ordered through online bookstores such as Barnes and Noble (bn.com) using the following data:
• ISBN # 978-1-61539-663-4

For more details, visit http://www.biomedtechnicians.com
References
Links