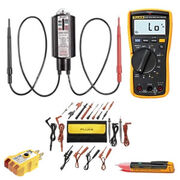 About
Equipment Testing must ensure the availability and reliability of its equipment needed for its operations and services. In order to ensure an acceptable level of health and safety, the hospital identifies the equipment it needs to meet its patients' needs for both day-to-day operations and in a likely emergency/disaster situation, such as mass casualty events resulting from natural disasters, mass trauma, disease outbreaks, internal disasters, etc.
All equipment must be tested for performance and safety before initial use and after major repairs or upgrades. Equipment maintenance activities may be conducted using hospital personnel, contracts, or through a combination of hospital personnel and contracted services. Qualified individual(s) must be responsible for overseeing the development, implementation, management and performance of all equipment maintenance. In the case of medical equipment, a clinical or biomedical engineer would be considered qualified. The hospital must maintain records of hospital personnel qualifications and be able to demonstrate how they assure contracted personnel are qualified. All policies and procedures pertaining to equipment maintenance, as well as specific equipment maintenance inventories and schedules, should be approved by the hospital's clinical maintenance and/or safety department personnel who have been assigned responsibility for equipment maintenance by hospital leadership.[1]
Equipment Types
Equipment types includes both facility equipment (e.g., elevators, generators, air handlers, medical gas systems, air compressors and vacuum systems, etc.) and medical equipment (e.g., biomedical equipment, radiological equipment, patient beds, stretchers, IV infusion equipment, ventilators, laboratory equipment, etc.).
Joint Commission Standard
The Joint Commission standard EC.6.10 EP2 requires the hospital to test all medical equipment for safety and performance before it is initially used in the hospital. This testing should also include non-hospital equipment that is leased, rented, etc.[2]
Many manufacturers provide inspection procedures or performance verification procedures in their service or even operators manuals. Generic inspection procedures may be available from professional organizations like ASHE, from large national hospital groups like the VA, from information organizations such as ECRI Institute or may be provided by your equipment management software vendor. All of these are valid sources of information and should be utilized in creating procedures. If the manufacturer provides testing recommendations these should take priority. [3]
References
↑

Comparison of CMS Preventive Maintenance Regulations. CMS Regulations Before December 2, 2011 From: State Operations Manual - Appendix A - Survey Protocol, Regulations and Interpretive Guidelines for Hospitals (Rev. 1, 05-21-04)

↑

ACCE. ACCE Study Guide. Version 2. 2007.

↑

AHA (1996) Maintenance Management for Medical Equipment, AHA, Chicago, IL.
Links