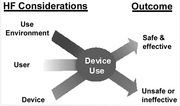 About
Human Factors is the discipline of optimizing human performance in the workplace by combining a wealth of knowledge, primarily from the disciplines of engineering, psychology, medicine, safety, and ergonomics. It considers the working environment from a human-centered viewpoint looking at the whole system ("the big picture") and its influence on the way people behave and interact with medical equipment within the workplace.
Human factors is primarily concerned with the ergonomics to "fit" between the user, equipment design, and the equipment's environmental factors. It takes account of the user's capabilities and limitations in seeking to ensure that tasks, functions, information and the environment suit each user. Ergonomics draws on many disciplines in its study of humans and their environments, including anthropometry, biomechanics, mechanical engineering, industrial engineering, industrial design, information design, kinesiology, physiology, and psychology.
Safety
Humans are often identified as one of the main causes of an incident, but this is an incorrect assumption. Humans rarely make mistakes on purpose. The Human Factors discipline has a body of knowledge, tools & techniques to identify:
Decrease adverse effects on human performance
Reduce potential patient errors
Solutions to minimize any negative impact
This can significantly reduce the chance of an incident occurring and any subsequent loss to performance, property or human life. Put simply, Human Factors can reduce the potential for patient error and increase the margin of safety.[1]
Reference
↑ FDA. Draft Guidance for Industry and Food and Drug Administration Staff - Applying Human Factors and Usability Engineering to Optimize Medical Device Design. June 22, 2011. http://www.fda.gov/MedicalDevices/DeviceRegulationandGuidance/GuidanceDocuments/ucm259748.htm#2
Links