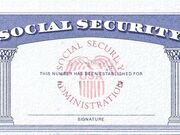 About
"Personally identifiable information" (PII), as used in US privacy law and information security, is information that can be used on its own or with other information to identify, contact, or locate a single person, or to identify an individual in context. The abbreviation PII is widely accepted in the US context, but the phrase it abbreviates has four common variants based on personal /personally, and identifiable / identifying. Not all are equivalent, and for legal purposes the effective definitions vary depending on the jurisdiction and the purposes for which the term is being used. (In other countries with privacy protection laws derived from the OECD privacy principles, the term used is more often "personal information", which may be somewhat broader: in Australia's Privacy Act 1988 (Cth) "personal information" also includes information from which the person's identity is "reasonably ascertainable", potentially covering some information not covered by PII.)
NIST Special Publication 800-122 defines PII as "any information about an individual maintained by an agency, including (1) any information that can be used to distinguish or trace an individual's identity, such as name, social security number, date and place of birth, mother's maiden name, or biometric records; and (2) any other information that is linked or linkable to an individual, such as medical, educational, financial, and employment information." So, for example, a user's IP address as used in a communication exchange is classed as PII regardless of whether it may or may not on its own be able to uniquely identify a person.
Although the concept of PII is old, it has become much more important as information technology and the Internet have made it easier to collect PII through breaches of internet security, network security and web browser security, leading to a profitable market in collecting and reselling PII. PII can also be exploited by criminals to stalking or identity theft of a person, or to aid in the planning of criminal acts. As a response to these threats, many website privacy policies specifically address the gathering of PII, and lawmakers
However, PII is a legal concept, not a technical concept. Because of the versatility and power of modern re-identification algorithms,[1][2] the absence of PII data does not mean that the remaining data does not identify individuals. While some attributes may be uniquely identifying on their own, any attribute can be identifying in combination with others.[3]
References
↑

doi|10.1109/SP.2008.33

↑

doi|10.1109/SP.2009.22

↑

doi|10.1145/1743546.1743558
Links
Community content is available under
CC-BY-SA
unless otherwise noted.