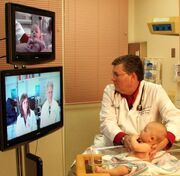 About
Telemedicine is the use of telecommunication and information technologies in order to provide clinical health care at a distance. It helps eliminate distance barriers and can improve access to medical services that would often not be consistently available in distant rural communities. It is also used to save lives in critical care and emergency situations.
Although there were distant precursors to telemedicine, it is essentially a product of 20th century telecommunication and information technologies. These technologies permit communications between patient and medical staff with both convenience and fidelity, as well as the transmission of medical, imaging and health informatics data from one site to another.
Early forms of telemedicine achieved with telephone and radio have been supplemented with videotelephony, advanced diagnostic methods supported by distributed client/server applications, and additionally with telemedical devices to support in-home care.[1]
Types
Telemedicine can be broken into three main types: store-and-forward, remote monitoring and (real-time) interactive services.
Store-and-forward telemedicine involves acquiring medical data (like medical images, biosignals etc.) and then transmitting this data to a doctor or medical specialist at a convenient time for assessment offline. It does not require the presence of both parties at the same time. Dermatology (cf: teledermatology), radiology, and pathology are common specialties that are conducive to asynchronous telemedicine. A properly structured medical record preferably in electronic form should be a component of this transfer. A key difference between traditional in-person patient meetings and telemedicine encounters is the omission of an actual physical examination and history. The 'store-and-forward' process requires the clinician to rely on a history report and audio/video information in lieu of a physical examination.
Remote monitoring, also known as self-monitoring or testing, enables medical professionals to monitor a patient remotely using various technological devices. This method is primarily used for managing chronic diseases or specific conditions, such as heart disease, diabetes mellitus, or asthma. These services can provide comparable health outcomes to traditional in-person patient encounters, supply greater satisfaction to patients, and may be cost-effective.
Interactive telemedicine services provide real-time interactions between patient and provider, to include phone conversations, online communication and home visits.[1] Many activities such as history review, physical examination, psychiatric evaluations and ophthalmology assessments can be conducted comparably to those done in traditional face-to-face visits. In addition, "clinician-interactive" telemedicine services may be less costly than in-person clinical visit. According to Richard A. Kimball, Jr. of HEXL, telemedicine is the future of house calls which are being done in the past. Telemedicine is beneficial for everyone whether they're at home or traveling abroad.
Emergency telemedicine
Common daily emergency telemedicine is performed by SAMU Regulator Physicians in France, Spain, Chile, Brazil. Aircraft and maritime emergencies are also handled by SAMU centres in Paris, Lisbon and Toulouse.
A recent study identified three major barriers to adoption of telemedicine in emergency and critical care units. They include:
regulatory challenges related to the difficulty and cost of obtaining licensure across multiple states, malpractice protection and privileges at multiple facilities
Lack of acceptance and reimbursement by government payers and some commercial insurance carriers creating a major financial barrier, which places the investment burden squarely upon the hospital or healthcare system.
Cultural barriers occurring from the lack of desire, or unwillingness, of some physicians to adapt clinical paradigms for telemedicine applications.[2]
Specialties
Telemedicine can facilitate specialty care delivered by primary care physicians according to a controlled study of the treatment of hepatitis C. Various specialties are contributing to telemedicine, in varying degrees.
Telecardiology
ECGs, or electrocardiographs, can be transmitted using telephone and wireless. Willem Einthoven, the inventor of the ECG, actually did tests with transmission of ECG via telephone lines. This was because the hospital did not allow him to move patients outside the hospital to his laboratory for testing of his new device. In 1906 Einthoven came up with a way to transmit the data from the hospital directly to his lab.[3]
Teleradiology
Teleradiology is the ability to send radiographic images (x-rays, CT, MR, PET/CT, SPECT/CT, MG, US...) from one location to another.[4] For this process to be implemented, three essential components are required, an image sending station, a transmission network, and a receiving-image review station. The most typical implementation are two computers connected via the Internet. The computer at the receiving end will need to have a high-quality display screen that has been tested and cleared for clinical purposes. Sometimes the receiving computer will have a printer so that images can be printed for convenience.
The teleradiology process begins at the image sending station. The radiographic image and a modem or other connection are required for this first step. The image is scanned and then sent via the network connection to the receiving computer.
Today's high-speed broadband based Internet enables the use of new technologies for teleradiology : the image reviewer can now have access to distant servers in order to view an exam. Therefore, they do not need particular workstations to view the images ; a standard Personal Computer (PC) and Digital Subscriber Line (DSL) connection is enough to reach keosys central server. No particular software is necessary on the PC and the images can be reached from wherever in the world.
Teleradiology is the most popular use for telemedicine and accounts for at least 50% of all telemedicine usage.
Telesurgery
Remote surgery (also known as telesurgery) is the ability for a doctor to perform surgery on a patient even though they are not physically in the same location. It is a form of telepresence. Remote surgery combines elements of robotics, cutting edge communication technology such as high-speed data connections and elements of management information systems. While the field of robotic surgery is fairly well established, most of these robots are controlled by surgeons at the location of the surgery.
Remote surgery is essentially advanced telecommuting for surgeons, where the physical distance between the surgeon and the patient is immaterial. It promises to allow the expertise of specialized surgeons to be available to patients worldwide, without the need for patients to travel beyond their local hospital.[5]
Telecommunications
Enabling technologies that enable these forms of remote communications include but are not limited to:
Videotelephony
Videotelephony comprises the technologies for the reception and transmission of audio-video signals by users at different locations, for communication between people in real-time.[51]
At the dawn of the technology, videotelephony also included image phones which would exchange still images between units every few seconds over conventional POTS-type telephone lines, essentially the same as slow scan TV systems.
Currently videotelephony is particularly useful to the deaf and speech-impaired who can use them with sign language and also with a video relay service, and well as to those with mobility issues or those who are located in distant places and are in need of telemedical or tele-educational services.[6]
Health information technology
Health information technology (HIT) provides the umbrella framework to describe the comprehensive management of health information across computerized systems and its secure exchange between consumers, providers, government and quality entities, and insurers. Health information technology (HIT) is in general increasingly viewed as the most promising tool for improving the overall quality, safety and efficiency of the health delivery system (Chaudhry et al., 2006). Broad and consistent utilization of HIT will:
Improve health care quality;
Prevent medical errors;
Reduce health care costs;
Increase administrative efficiencies
Decrease paperwork; and
Expand access to affordable care.
Interoperable HIT will improve individual patient care, but it will also bring many public health benefits including:
Early detection of infectious disease outbreaks around the country;
Improved tracking of chronic disease management; and
Evaluation of health care based on value enabled by the collection of de-identified price and quality information that can be compared.
References
Links
See also
American Telemedicine Association
eHealth
Medical device
mHealth
Mobile collaboration
National Rural Health Association
Remote therapy
Telecare
Telemental Health
Telephone triage
Video